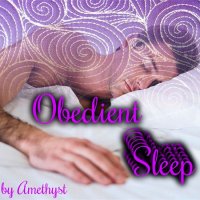 OFFICIAL SYNOPSIS
Sleep & Obey; Sleep & Forget

If you love that feeling of being knocked out by a hypnotic session, then Obedient Sleep is for you!

This will all seem like a dream later, because you will be in such a deep state of hypnotic asleep.  Is it just a dream?   An obedient dream of you stroking faster while you sleep.

Your mind is sooooo blank.  So helplessly obedient.  I command your mind to believe that you are in a dream, and it's about to become a wet dream.  Yes, that's right!  You will obey and remember that this was just a dream.  A dream where you orgasmed to the sound of my voice.   You will forget all about the mindless stroking, and only remember a dream of how sexy you find my voice and how you couldn't hold back.

Features: Delta brainwaves starting at 8 hz and ending at 2 hz; 10-1 countdown; JOI; Amnesia; Altered Memory; No count up at the end.
PERSONAL NOTE (only visible to you)
You must
Log in / Sign up