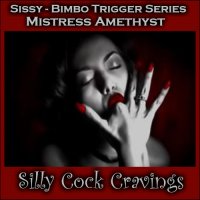 OFFICIAL SYNOPSIS
Silly sissy bimbos can't help but crave cock for hypnotic Mistress Amethyst. Sissification and bimbofication hypnosis - post hypnotic JOI;  Silly trigger

Silly sissy bimbos can't help but crave cock!

If you don't already crave cock, you definitely will after this file!

Drop deep into trance for me, while I program your silly mind to accept the fact that you crave cock.  Mmm, yummy, delicious cock!

Get ready to lick your lips and surrender to your insatiable craving!  This is what Mistress Amethyst wants for you.

Features: 

Silly Trigger
Multi voice track programming / Layered voice tracks
10-1 Countdowns
Very soft sporadic moaning & giggling in the background
Delta brainwave tones
Awakening:  Yes
Cum Command:  Yes - Post hypnotic JOI Command
30 Minutes
For BEST results, please listen to my FREE file:  Insatiably Silly

FemDom Erotic Bimbofication & Sissification hypnosis by Mistress Amethyst to render you mindless under her control.
PERSONAL NOTE (only visible to you)
You must
Log in / Sign up