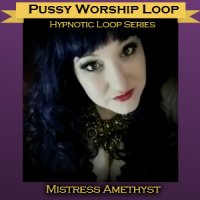 | | |
| --- | --- |
| | Audio No longer available for purchase |
OFFICIAL SYNOPSIS
CREATE YOUR OWN MASTURBATION EXPERIENCE. Hypnosis loop to sink your mind into pussy worship ecstasy. Erotic hypno by Mistress Amethyst - FemDom pleasure

The 2016 Erotic Hypnosis Loop Series by Mistress Amethyst Has Arrived

Several loops are in the works and will be released as soon as they are ready.  Each file is perfect on its on or paired with others to create your own masturbation experience.

Nothing arouses you the way eating my pussy arouses you.  You obsess with the idea of putting your head between my legs, where I allow you to push my panties to the side for a nice,long inhalation of my sweet scent.  Mmmmm.

My sweet honey scent makes you soooo horny - you want to taste me - your tongue is soooo eager to lick me - to suck my clit - to drink my juices - over & over again!

Use this loop on it's own to really amplify your arousal, or use within a playlist. When you listen to this loop, your horny body will be aching for release.


Features: 
Induction - No, but there is some wording for relaxation
Multi voice track programming / Layered voice tracks
Soft moaning in the background
Delta brainwave tones softly in the background
Cum Command:  No
Fetish:  pussy worship;  erotic hypnosis, FemDom
14 Minutes



CREATE YOUR OWN HYPNO MASTURBATION EXPERIENCE

Either stack the loops in an order of your choice OR create a Loop playlist and hit random baby!

Possible ways to use a playlist:

- Put all the loops in a playlist roll the dice (1). Whatever # you get is the # of loops that you will listen to. If you get 1, then roll again to see how many time you will listen to that 1 loop. If you get 3, then you will only listen to the first 3 loops that play at random. Will an orgasm be part of it? Or will you end the game with blue balls?

- Create a play list where you duplicate the titles. You might have The Edging Loop or one of the arousal building loops in there multiple times so that it comes up more than once.
PERSONAL NOTE (only visible to you)
You must
Log in / Sign up