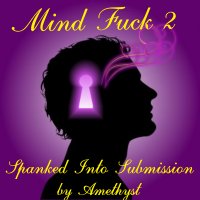 OFFICIAL SYNOPSIS
Spanked Into Submission –  you aim to please your Mistress, don't you, My slave?

You've come back to my office for additional Relaxation Therapy, which is disguised as your submission training.  My wicked sense of fun is turned up a notch.

I guide you into a deep state of hypnosis. While in trance, I have you put on a slave collar, a cock & ball leash, and you drop to your knees to show your devotion. Once on your knees, I have you repeat "I aim to please you Mistress", every time that you receive a spanking.

The trouble is…. this turns me on so much, that I need to touch Myself right in your face to relieve the arousal.

I send you home with a homework assignment to call out "I aim to please you Mistress" every time you masturbate. My e-mail address is: [email protected] Mmmmm I can't wait to receive your "homework"!

Features: Fantasy Role Play; BDSM; Spanking; Mistress Masturbation; Gender specific for men.
PERSONAL NOTE (only visible to you)
You must
Log in / Sign up