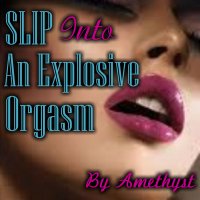 OFFICIAL SYNOPSIS
In this erotic hypnosis, Mistress Amethyst will guide you into an explosive orgasm JOI experience using the SLIP trigger & fantasy elements. FemDom hypnosis

In this erotic FemDom hypnosis recording, join Mistress Amethyst for an explosive orgasm.

The SLIP trigger files continue in this very erotic and intimate recording.  After being induced into trance and triggered to SLIP into a primed & mindless state, your mind will be led to believe that you haven't had an orgasm in weeks.  Those balls are so full and you need to cum so bad.

You feel me curled up next to you, whispering into your ear, and giving you instructions.  I want you to follow these instructions very carefully.  While building your desperation for an orgasm, I put your mouth & tongue to work on my nipples and sweet sex.

Instructing you to stroke & lick slowly until just the right moment, you find yourself reaping the rewards of obedience when you and I orgasm explosively together.  After experiencing this powerful pleasure, you are left with the truth that it feels soooo good to follow my instructions.

For best results, please listen to my FREE file:  SLIP Into Mindlessness

Features: Slow, erotic induction, 10-1 countdown, SLIP Trigger, JOI, slow build up to orgasm, simulated orgasm, moans, breast worship, pussy worship, No count up at the end.


 
PERSONAL NOTE (only visible to you)
You must
Log in / Sign up