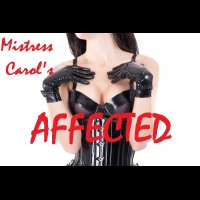 OFFICIAL SYNOPSIS
This sexy journey contains many wonderful experiences in one session. Deep trance and surrender are unavoidable as my sultry voice will take you so deeply and quickly. We will then embark on a journey into a leather shop you will never forget and fantasy becomes your reality, making you so wet. What a wonderful opportunity to take advantage of your arousal as I lead you to orgasm using my voice alone.

This is a very adult session and contains profanity and the use of mental pleasure devices to orgasm.

Themes: Deep trance, surrender, obedience, submission, fantasy roleplay, hands free orgasm or mindgasm, trigger placement.
Effects: Background music, background vocals, binaural beats.

This session is 42:09 and 77.1 MB.
PERSONAL NOTE (only visible to you)
You must
Log in / Sign up