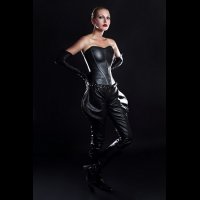 OFFICIAL SYNOPSIS
Come in. It's alright. It's safe. Come in and spend a little time with your Mistress and her soft, black leather clothing. This session will take you deep into trance where you will get to know my leather clothing very intimately.

Themes: Control, devotion, light feminization, relaxation.
Length is 37:53. Size is 34.6 MB.
PERSONAL NOTE (only visible to you)
You must
Log in / Sign up