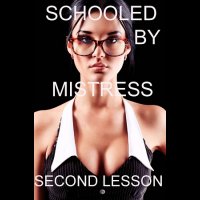 OFFICIAL SYNOPSIS
Fall deep into my spell as your education continues. This session is a follow on session to Schooled by Mistress (though Schooled by Mistress is not a prerequisite). In this lesson you will learn to succumb and follow my instructions with ease and complete obedience. This hour and twenty minute session will empty your mind, train your body and subject you to a smorgasbord of wonderful hypnotic triggers, suggestions, programming and heavy fractionation. This is an absolutely wonderful session and a "can't miss" session for all Mistress Carol fans. This delightful file pulls you out and drops you deep repeatedly, with one long heavy slow mindfuck in between.

Themes: Fractionation (heavy), hypnotic triggers and suggestions, obedience programming.
File length is 1:20. File size is 182 MB.
PERSONAL NOTE (only visible to you)
You must
Log in / Sign up