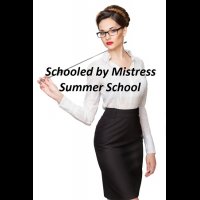 OFFICIAL SYNOPSIS
You are in need of remedial education and Summer School is now in session. With sexy seduction, I will lead you into deep trance and teach you just how deep you can fall under my guidance. This is a standalone session and you do not have to listen to any of my previous Schooled by Mistress sessions as a prerequisite.

Themes: Deep hypnosis, fractionation, open-eyed trancing, submission, obedience, hypnotic suggestions to repeat phrases out loud, brainwashing, mind control.
This session contains background music, background vocals and binaural beats.
This session is 46:17 and 84.7 MB in size.
PERSONAL NOTE (only visible to you)
You must
Log in / Sign up