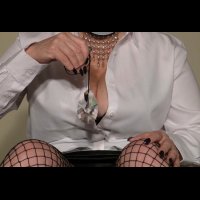 OFFICIAL SYNOPSIS
I know you enjoyed the original. Fall into my control with this classic seductive remastered session. This is a conditioning session designed to introduce you to my voice. Once you have become accustomed to my to hearing my commands and my tone of voice it will become easier for you to fall deep into trance and under my control.

This session is 29 minutes long and takes you on a journey into the garden of my domain. Once there I will drop you into a deep trance and continue to drop you deeper. Come into my garden said the spider to the fly!
Contains dual tracks, background music and vocals, and bilateral binaural beats.
Download is 66 MB.
PERSONAL NOTE (only visible to you)
You must
Log in / Sign up