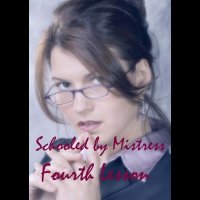 OFFICIAL SYNOPSIS
Take a seat at your desk and listen up boy. It's time to return to school, where I will demonstrate my complete and total control of your body and your mind. In this session, I revisit a few physical triggers that you will react to with complete passion and attention. There will be no doubt who controls you as any shred of resistance you once had will completely vanish. Plus, my eager student, I have a new trigger to place within that open empty mind of yours to aid in better student participation.

Themes: Fractionation, heavy trigger placement and use, body control, hypnotically induced bondage, submission and obedience, tease and denial.
Effects: Background music, background vocals, binaural beats.
Session length is 35 minutes. Session size is 80 MB.
PERSONAL NOTE (only visible to you)
You must
Log in / Sign up