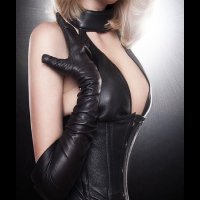 OFFICIAL SYNOPSIS
What does leather do to slave? What does the sound of my voice do to you? Breathe in the scent of my leather and drop deep into my control. Just relax. Accept it, just as naturally as you accept everything I do, and everything I say. The Sound of Leather will put you in a deep controlling trance exactly where I want you. Deeply hypnotized and back in my dungeon again, naked, blindfolded, helpless, with neither the will nor the ability to resist me. Your reaction to the scent of leather and the sound of my voice will be forever altered.

Themes include deep trance, control, seduction, submissiveness, post hypnotic suggestions.
File length is 49 minutes.
The file size is 112 MB.
PERSONAL NOTE (only visible to you)
You must
Log in / Sign up