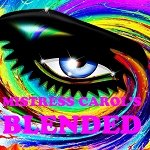 OFFICIAL SYNOPSIS
As you soften and sink into my sultry, sexy voice, the sensual overload of voice tracks will pull you deeper, blending in your ears until you give in and let them fill you as one. Fall deep into my control and conditioning. My power will fill you as my brainwashing drops you into deeper love and addiction to your Mistress.

Themes: Deep conditioning, loss of control, brainwashing, love and addiction.
Effects: Background music, background vocals (heavy), binaural beats, medium to low tones, drum beats. This session is 29:21 in length and 67.1 MB in size.

I have created a two-hour Blended loop. If you purchased and enjoyed this session and are craving more, send me an email. I'll send you a free download link.
PERSONAL NOTE (only visible to you)
You must
Log in / Sign up