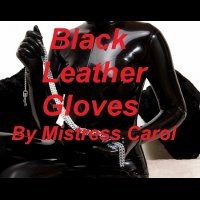 OFFICIAL SYNOPSIS
In this session I will use a soft gentle induction to bring you to my dungeon door. The simple act of following me down my hallway will deepen your hypnosis perfectly for me. Waking in my standing cage, I will use my new toy, a colored spiral, to create absolute obedience in you. You will follow my every command and give me everything I ask for. Have you had success with hands-free orgasms at the hands of Mistress Carol? In this session, you may either try to achieve a hands-free orgasm(I've used my favorite trigger word) or as a forced masturbation session. I give you permission to use the method that works best for you.

Themes: Deep hypnosis, obedience, control, submission, caged, black leather gloves, use of a mental spiral, the choice of forced masturbation or a hands-free orgasm.
Session length is 37:45.
Session size is 69.1MB.
PERSONAL NOTE (only visible to you)
You must
Log in / Sign up