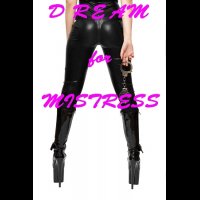 OFFICIAL SYNOPSIS
I love dreams and I love creating sessions involving dreams. And I do believe that this session, and it's a high bar already, is the best session I've created so far.

In this session, I will knock you on your ass with a confusional induction laced with brainwashing techniques. Your conscious mind doesn't have a chance while it is filled with images of leather and Mistresses. I will then program you to experience lucid dreaming with wet dreams filling your nights. You and I shall come together as I use your imagination to make you experience a hands-free orgasm for me. Then off to sleep to dream of me…….

Themes: Control, domination, brainwashing, lucid dreaming, self-pleasure, hands free orgasm.
Effects: Background music, heavy background vocals, special effects, binaural beats.
This session is 37 minutes and 68 MB.
PERSONAL NOTE (only visible to you)
You must
Log in / Sign up