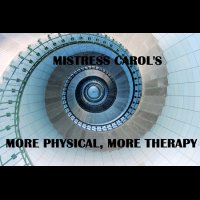 OFFICIAL SYNOPSIS
My voice will completely overwhelm you in this supremely sexy, controlling session in which you fall extremely deep into hypnotic surrender and bliss, and melt into my control. I plant several triggers and post hypnotic suggestions in your open, compliant mind, you becoming immersed in the desires and passions of your Mistress. This is a must listen session for all Mistress Carol fans and follows My Physical Therapy session. It is not mandatory to listen to Physical Therapy prior to this session, but, a wonderful trigger from Physical Therapy is strengthened and used in this session and I'm sure you want to be fully programmed first.

Themes include deep hypnotic control, the planting of several triggers, post hypnotic suggestions, amnesia.
Session Length is 1:08 and session size is 156 MB.

Warning: You could experience body soreness after listening to this session.
PERSONAL NOTE (only visible to you)
You must
Log in / Sign up