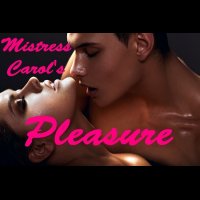 OFFICIAL SYNOPSIS
A sexy fixation induction and a trip down the corridor of my dungeon places you deeply into hypnotic trance and securely under my control. Enter into my room on your knees slave. Here you will be trained to pleasure me just the way I want to be pleasured. I may allow you to come, but not during my session with you. No, not until you have completed a task for me and only if I'm happy with your performance.

Themes: Deep hypnotic trance, servitude, ownership, collared, tease and denial, edging, post hypnotic suggestion, pleasuring Mistress to orgasm.
Effects: Background music, background vocals, binaural beats, metronome.
Session length is 44:44 and session size is 81.9 MB.
PERSONAL NOTE (only visible to you)
You must
Log in / Sign up