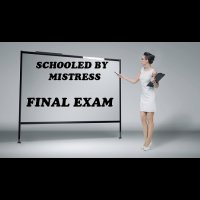 OFFICIAL SYNOPSIS
You are such a good study. It's time for you be wrapped inside the blanket of trance, lost in the pleasure, and lost in my voice while you complete your final exam. The depth of trance you will achieve in this session is endless as you sink into a tremendously deep profound hypnotic state and show me what you have learned. This session is the final session in the Schooled by Mistress series.

Effects: Background vocals, background music, and bilateral binaural beats.
File size is 127 MB. File length is 55:48.
PERSONAL NOTE (only visible to you)
You must
Log in / Sign up