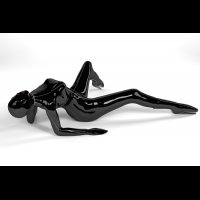 OFFICIAL SYNOPSIS
As your mind drifts and deep relaxation fills you, my conversational induction and elevator deepener will rob you of all thought. My sexy voice and commanding presence will prepare you to slip into my control and cover you in liquid latex, covered in liquid latex and programmed to obey your Mistress. But will you remember? If you are claustrophobic, I recommend you take a pass on this session.

Themes include deep trance, liquid latex, loss of control, post hypnotic suggestion placement, trigger control, amnesia.
Effects include background music, binaural beats, subliminals.
Session length is 40 minutes.

AS I'M LISTENING TO MY FINAL QUALITY CONTROL LISTEN, I'M DROPPING INTO TRANCE MYSELF. Yes, if you love deep trance you must get this session! This is a must have for all latex lovers. You do not have to listen to Latex Robot before listening to this session, but it will enhance your experience.
PERSONAL NOTE (only visible to you)
You must
Log in / Sign up