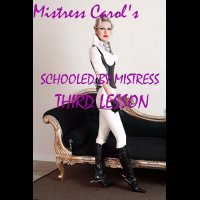 OFFICIAL SYNOPSIS
Repetition is the key to successful learning. In this, the third Schooled by Mistress session, you will find yourself dropping easily and opening your mind to my further instruction. I will revisit many triggers used in my previous sessions, strengthening their effectiveness and training your mind to react to them immediately and obediently. Your mind has the capacity to hold many triggers and to know how to perform when each one is used. A refresher course just keeps them at the top of your study list.

Themes: Deep hypnosis, heavy trigger placement and reinforcement, domination, and obedience.
Effects: Background vocals, background music, binaural beats and background beats.
File length is 41:47 and file size is 94.5 MB.
PERSONAL NOTE (only visible to you)
You must
Log in / Sign up