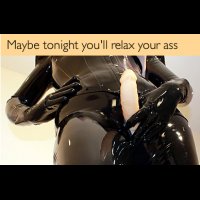 | | |
| --- | --- |
| | Audio No longer available for purchase |
OFFICIAL SYNOPSIS
This recording is one I made as a gift for one of my personal slaves. He has great difficulty in relaxing when I take him with my strap on. It occurred to me that if I implanted a trigger designed to get him to unconsciously relax his ass, I could take him with less complaining. If you have a dominant partner or you enjoy anal play you will enjoy this recording. Remember you will take it and RELAX YOUR ASS.

Effects include background music, background vocals and binaural beats.
File length is 36:40. File size is 33.5 MB.
PERSONAL NOTE (only visible to you)
You must
Log in / Sign up