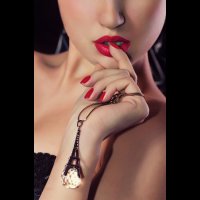 OFFICIAL SYNOPSIS
The dictionary definition of the word Compelled - "to force or drive, especially to a course of action". Yes, I will take you deep into trance with my beautiful mesmerizing crystal then program you to perform a couple of tasks for me. You can try to resist, but we both know you cannot resist a beautiful dominant woman with powerful hypnosis skills.

Themes: Deep trance, post hypnotic suggestions, amnesia.
Effects: Background music, background vocals, binaural beats.
Session length is 26 minutes.
Session size is 59.8 MB.
PERSONAL NOTE (only visible to you)
You must
Log in / Sign up