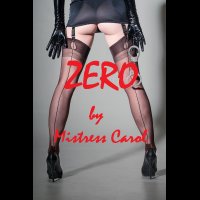 OFFICIAL SYNOPSIS
Zero is the thoughts you will have under the spell of my commanding sensual voice. Zero is exactly what you will have. My sexy voice will seduce you into deeper submission and eliminate any resistance within you. This session is the ultimate one-hour mind fuck; the ultimate session for deep trance and surrender. This is a "MUST HAVE" for all Mistress Carol and erotic trance enthusiasts.

Themes: Deep relaxation, surrender, increased submission, amnesia, time distortion, sleep trigger, open-eyed hypnosis, fractionation, Mistress worship, post trance suggestions.
Effects include background music, background vocals, binaural beats.
This session is 1:02 in length and 113 MB in size.
PERSONAL NOTE (only visible to you)
You must
Log in / Sign up