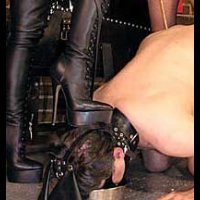 OFFICIAL SYNOPSIS
Want to make a few changes in your life to please your Mistress? Need a little help managing your weight or eating better? Want to experience the combination of my powerful domination coupled with hypnotherapy techniques for weight loss? You choose all of the above. Good, slave.

This is the first Self Improvement by Domination session. There will be a total of four weight loss topics by my command for you to choose from. These sessions are not gender specific and are suitable for any one.

This session contains background music, background vocals and binaural beats.
File length is 38:27.
File size is 35.2.
PERSONAL NOTE (only visible to you)
You must
Log in / Sign up