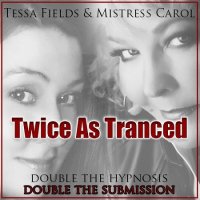 OFFICIAL SYNOPSIS
You, nestled between Mistress Carol and Tessa Fields in a busy restaurant. Mistress Carol in leather; Tessa in fur and seated so close to you our thighs are touching. We simultaneously use our sensual voices to skillfully drop you into deep trance while we enjoy ourselves. After this meal, you will never be the same.

Themes: Deep trance, sleep trigger, obedience, submission.
Effects include background music and binaural beats.
This session is 49:39 in length and 90.9 in size.
PERSONAL NOTE (only visible to you)
You must
Log in / Sign up