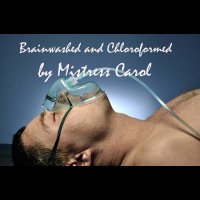 OFFICIAL SYNOPSIS
The title of this session says it all. Listen, breathe, lose yourself into my voice and my chloroform. After a relaxing progressive relaxation induction, I open you further and fill you with my brainwashing techniques. You cannot help but fall into my voice and powerful presence. Training your mind to accept the effects of my chloroform, to lose consciousness with just one word, will leave you vulnerable and helpless.

Themes: Deep hypnotic trance, brainwashing, loss of control, use of chloroform, domination.
Session length is 36:14.
Session size is 82.9 MB.
PERSONAL NOTE (only visible to you)
You must
Log in / Sign up