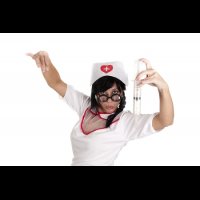 OFFICIAL SYNOPSIS
Kinky, kinky, kinky! Are you up for this session? I need satisfying by using may favorite vibrator. It's time for me to use you as my LATEX TOY.

This session "LATEX TOY" was created for a special client as a custom session. It made me very wet and horny just recording it, and I can't wait any longer to make it available to all of you. In this fantasy hypnosis session I will use my special ingredients to coat you with latex. Then shrink you to just the right size to pleasure myself with my new vibrating latex toy. After I have cum you will get your chance to return to normal but only by following my commands. Are you ready my hypno slave, ready to pleasure your Mistress?

Themes: Fantasy roleplay, use of latex, movement restriction, use as Mistress Carol's sexual toy, giantress, forced masturbation.
Effects: Background music and vocals, binaural beats.
Session length is 40:50. Session size is 74.7 MB.
PERSONAL NOTE (only visible to you)
You must
Log in / Sign up