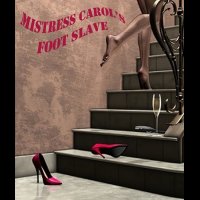 OFFICIAL SYNOPSIS
You adore my feet, don't you slave? And I have the most beautiful feet...in which to torture and pleasure you with. I have received many requests for a foot-fetish session. Your begging has paid off. Starting with a progressive relaxation introduction, I then use my pretty painted toes to deepen your trance. I love using my slaves for my own pleasure, in which you will provide plenty awhile being allowed to pay honor to my gorgeous feet.

Themes include tease and denial and foot worship.
File length is 30:27 and file size is 69.7 MB.
PERSONAL NOTE (only visible to you)
You must
Log in / Sign up