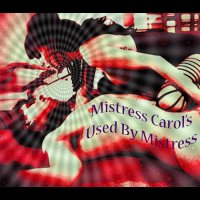 OFFICIAL SYNOPSIS
Enjoy a soft progressive relaxation induction where you let go of all responsibilities and cares, becoming deeply relaxed, then enter Mistress Carol's bedroom. Let me take you further down using an extremely affective deepener similar to the helplessness you experienced in "At My Command". Finding yourself on my bed, I take advantage of your deep trance, dress you up in my pretties and use you to get me off. I just can't resist the way you look in my lingerie and make up. Stroke that cock for me while I pleasure myself at the same time. This session is based on a custom session I wrote for a very special hypno-slave. Thank you slave steve for the inspiration that I can now share with others.

Themes include domination, light feminization, Mistress masturbation and self masturbation.
THIS IS A VERY SEXUAL SESSION.
Effects include background music, background vocals, heartbeat effects and binaural beats.
File length is 45:54 and file size is 105 MB.
PERSONAL NOTE (only visible to you)
You must
Log in / Sign up