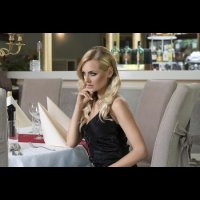 OFFICIAL SYNOPSIS
She enters your world and takes it over. You are enjoying a quiet meal in your favorite restaurant and a little bored. She is about to change all of that. She sits down with you and soon the crystal pendant around her neck catches your attention and won't let go. This sexy naughty traveling stage hypnotist quickly has you deep in trance where she uses you to experiment and hone her skills. While enjoying a little self-pleasure of her own, she hypnotizes you to come in your pants using her voice alone. This session is X rated and very sexual.

Why don't you come have dinner with me, my pet?

This session contains background vocals, background music (exclusively created by slaveK for Mistress Carol) and binaural beats.
Themes: Deep hypnotic trance, fantasy role play, hands free orgasm, sexy self gratification by Mistress Carol.
PERSONAL NOTE (only visible to you)
You must
Log in / Sign up