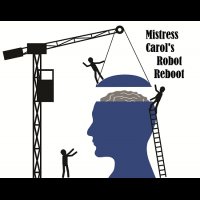 OFFICIAL SYNOPSIS
All of MY, Robots report to Mistress Carol for further programming. Yes, that's right. This follow up to session MY, Robot will rewire your mind. There is no way to fight it, no way to resist it. Once deeply in trance I will let you visit my programming room, where, deeply under my influence I will place three post hypnotic suggestions in your vunerable mind and a trigger to deepen my control of you. MY, Robot is not a prerequisite to this session.

Themes: Deep Hypnosis, Loss of Control, Robotics, Technology, Rebooting your Mind.
Effects: Background music, background vocals, heavy binuaral beats.
File size is 127 MB and length is 55:30.
PERSONAL NOTE (only visible to you)
You must
Log in / Sign up