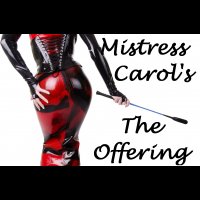 OFFICIAL SYNOPSIS
I will tease your mind and your body will respond becoming incredibly aroused. Up and down you drop like my yo-yo. I will let you come, eventually, when I'm done playing with you.

Themes: Deep trance, fractionation, teasing, devotion, arousal, Mistress pleasure, masturbation, Rocket trigger, sleep - no wake command.
Effects: Background music and vocals, various brainwave entrainments.
PERSONAL NOTE (only visible to you)
You must
Log in / Sign up