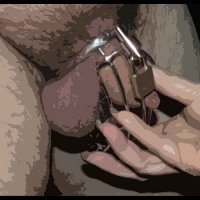 OFFICIAL SYNOPSIS
I have to let you come once in awhile, slave. In this audio experience you will be masturbating with your Mistress. Yes, I will be coming with you. You CANNOT download this session automatically. You must wait for my envelope to arrive to you in the mail. Once you have the envelope, there will be a letter, a new ribbon and a special gift for you. When you send me a spectacular begging email, following the instructions in the letter exactly, I will send you a link to this recording. Yes, slave, that is exactly how it is done; my rules and you follow them. Until then, you will stay in Mistress Carol's chastity.

Themes: Chasity, masturbation.
Duration: 18 Minutes File size: 16.5 MB.
PERSONAL NOTE (only visible to you)
You must
Log in / Sign up