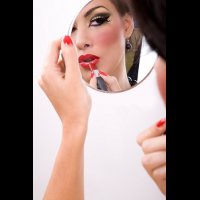 OFFICIAL SYNOPSIS
Your fantasy comes to life as your sexy neighbor invites you into her home to spend a little time hypnotizing and training you. You have dreamed of her, dreamed of her being so close to you. Close your eyes and remember your childhood fantasy as she comes to life in your mind. The original script for this session comes from a custom recording I produced for a very happy hypno-slave. You know you have had the same fantasy, an older woman taking control of you, your neighbor, your neighbor's mother, your co-workers wife. You get the idea. Jump into the fantasy and enjoy.

Themes: Fantasy, control, domination, submission.
Effects include background music, background vocals and binaural beats.
This file is 30 minutes long and 69.3 MB in size.
PERSONAL NOTE (only visible to you)
You must
Log in / Sign up