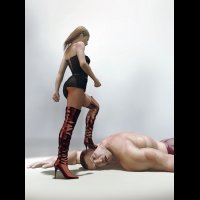 OFFICIAL SYNOPSIS
Listen to my voice as you fade away and drop quickly into my control. In addition to owning your mind, I want to own your body. In Mistress Carol's Physical Therapy you will experience the power of MY suggestion and your body will respond to all of my commands and instructions. You, mesmerized, enthralled, deep hypnotized, responding to my silky sexy voice and helpless in the presence of my power.

Themes: Domination, Deep Trance, Heavy Hypnotic Suggestibility.
File length is 53:17. File size is 121 MB.
File contains background music, background vocals and binaural beats.
PERSONAL NOTE (only visible to you)
You must
Log in / Sign up