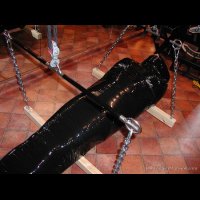 OFFICIAL SYNOPSIS
Take a step into deep trance and My Dungeon to experience total domination by allowing me to wrap you completely in wide black plastic wrap. Yes, head to toe, wrapped in black plastic with nothing exposed except your breathing tube, unless I allow other parts exposure too.

Themes: Domination, submission, bondage.
File length is 39:40.
File size is 36.3 MB.
Effects include background music, background vocals and binaural beats.
PERSONAL NOTE (only visible to you)
You must
Log in / Sign up