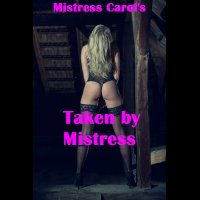 OFFICIAL SYNOPSIS
You've always been drawn to dominant women with strapons. You've fantasied about being taken by one. In this session, I will lead you into deep trance and into a fantasy where you, my willing boy, will experience my strapon personally. If you are one who experiences hands free orgasm or mind-gasms, try listening to this session hands free and see what happens to you. If you are one who struggles with hands free orgasm, use this session as a masturbation session and enjoy stroking yourself while listening to this fantasy. It is an experience you will never forget.

Session Includes:
Relaxation and Deepening Instructions
Strap-On Fantasy
Hands-Free Orgasm
Masturbation Suggestion
Background Music and Vocals
Brainwave Entrainment

Themes: Deep relaxation, deep trance, strapon play, hands free orgasm or masturbation.
Effects: Background music, background vocals, brainwave entrainment.
This session is 31:34 long and 57.8 MB in size.
PERSONAL NOTE (only visible to you)
You must
Log in / Sign up
Add a comment
intense and amazing as Mistress Carol takes me deeper and deeper,hiting the sweet spot, as her control and power commanded me to Obey.
Posted by Carla on Sep 01 2021 reply
Add a comment