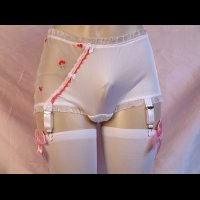 OFFICIAL SYNOPSIS
This is a delightfully naughty session where I control you and turn you into my "panty boy". You have no choice but to do exactly as I tell you....but you'll be very glad you obeyed. A short and effective induction drops you deep into trance where I get to control your thoughts and actions.

Themes: Domination, control, forced orgasm.
Length is 40 minutes. File size is 36.4 MB.
PERSONAL NOTE (only visible to you)
You must
Log in / Sign up