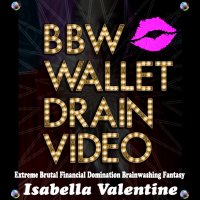 OFFICIAL SYNOPSIS
EXTREME FINANCIAL DOMINATION. It's BRUTAL. It's GREEDY. It's DEMANDING. It's BRAINWASHING FANTASY coming at you FULL FORCE! You can LISTEN to this with the sound all the way up and get WAAAASTED while I YELL at you like a DRILL SERGEANT in one ear and WHISPER SWEETLY like a SEDUCTIVE ANGEL in the other ear. Actually there are voices coming from everywhere in all directions, gripping you at varying volumes from gentle heaven to ripping hell. What a complete MIND FUCK! This is INTENSE, DISTURBING, ADDICTIVE, HARDCORE FINDOM!

And that's just the audio portion.

In this video, an infinite spiral graphic loops over a compilation of SEXY videos of me MODELING my clothes, looking into the CAMERA, TEASING you, IGNORING you, laughing, smiling, walking, lounging, EYEGAZING, STRIPPING (I'm TOPLESS in at least one of the videos), and doing whatever the FUCK I want to do. What are YOU going to do to IMPRESS ME, WORKER DRONE. SHOW ME. PAY ME. BUY ME EVERYTHING!

If you like the loud intensity of Spin Cycle and Venom, you will LOVE the RUSH of My thorough FINANCIAL BRAINWASHING!

DON'T BUY THIS OR YOU MIGHT BE ADDICTED TO ME YELLING AT YOU TOO. FUCK IT. BUY IT!!! BUY IT!!!
PERSONAL NOTE (only visible to you)
You must
Log in / Sign up