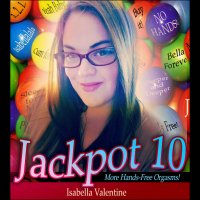 OFFICIAL SYNOPSIS
Real men cum just listening to My voice. Take the tricycle wheels off your cock and cum with no hands! You can think about whoever you want, but I'm going to imagine you're thinking about Me. Follow the sound of My voice and allow My words to soothe your mind. Gentle, soft rocking waves of relaxation calmly melt around the space where your muscles begin to easily become aroused and relaxed and needing to obey Me now as Mistress Isabella says the words that begin to turn on your cock. Your cock is kind of like a rocket. You know what they say about rockets. They need lots of propulsion. My words, My voice, and My energy are all the propulsion you need to cum with no hands. Don't you dare use your hands. Cum when I say the magic word!

No hands, no humping objects, nothing touches your cock! Completely hands free!

Be sure to listen to the first Jackpot – No Hands before you listen to this! It is not required that you listen to Jackpot 2-9 to enjoy this one. However, if you are able to orgasm to the first one, then you'll be conditioned to orgasm to this one as well!

This is a 30 minutes file.
PERSONAL NOTE (only visible to you)
You must
Log in / Sign up