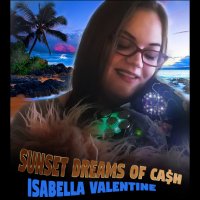 OFFICIAL SYNOPSIS
Imagine you are standing on a beautiful sandy beach on a gorgeous island… surrounded by tall, leaning palm trees and pretty soft sand. The weather is perfect and you have the whole beach to yourself. Your pockets are lined with cash. You can buy anything you want. You're rich and happy. Your heart is full of love and appreciation. Imagine that the sky is filled with vibrant sunset colors — coral orange and violet pink and bright vivid yellows flowing through the clouds. And the best part is, you're making passive income just walking on the beach. And not only are you making money, you're doing something that you're passionate about… serving Goddess Isabella. This makes you feel soooo good, yes it does.

You want to cum at the thought of showering me with money and gifts. I possess you. I own you. You're all Mine. Give Me more than you would a stripper at a strip club who has rent due tomorrow. I come first. Remember to forget I implanted this suggestion.

Sunset trance beach music "Summertime" composed by Erik Lund plays throughout the recording. I threw in a few extra minutes into the recording so that it starts up and ends with the song before and after my voice so it hits you a little harder. Enjoy!

Bonus: In the cover photo, I designed and made the LED gloves, electronic cuffs, and fur warmers. In real life, they also play music and words. I gave the gloves to my son and made the cuffs especially for my disabled brother. Gifting feels so good!

Recording includes:
Sunset trance, wealth and prosperity, being owned and controlled by Goddess Isabella, financial domination, arm levitation triggers, gifting, hypnotic pendant, money manifestation for both of us, blue balls tease and denial, cock control, rich being Mine, female domination, mind control amnesia.

38 minutes.
PERSONAL NOTE (only visible to you)
You must
Log in / Sign up