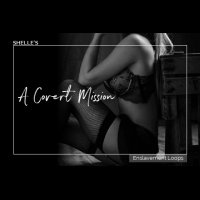 OFFICIAL SYNOPSIS
A SUPER POWERFUL and MIND BLOWING LOOP.

Loop Session: 25 minutes

WARNING: This session is filled with SUBLIMINAL messages and INTENSE BRAINWASHING resulting in a SUPER POWERFUL and MIND BLOWING LOOP.

My horny slave, this session will introduce you to a COVERT mission and therefore I won't be releasing information as to the content within. This shared, by listening to this session you accept the irrevocable nature of My brainwashing which will bring you deep into submission creating a strong dependency and SUGGESTIBILITY. After repeated listening you will realize that brainwashing is real and can be used to alter thoughts and beliefs. This session will be purchased on blind TRUST.

This session with 25 plus minutes of brainwashing includes strong SUBLIMINAL messages that is also very powerful and should be listened to at BEDTIME or nap time. Know that you WON'T be HYPNOTIZED during this session...unless you are already suggestible to My voice. My pet, it is time to Listen and ACCEPT the TRUTH.
PERSONAL NOTE (only visible to you)
You must
Log in / Sign up