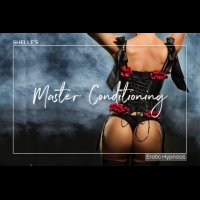 OFFICIAL SYNOPSIS
Level: Powerful
Length: 53 minutes
Category: Mind Conditioning-Brainwash

Conditioning your Helpless mind...
"Utter bombardment on your brain".
This is a Master Conditioning file to go with my most popular and powerful Master Triggers file.
This file is a MUST HAVE if you want to feel the full effects of my work, as it will soften your mind, remove all resistance and prepare you for your future.

Powerful 3D effects that allow me to penetrate the far corners of your mind.  Feel my voice instantly reach further and deeper inside you.
PERSONAL NOTE (only visible to you)
You must
Log in / Sign up