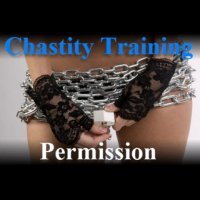 OFFICIAL SYNOPSIS
Don't you LOVE it when I put on My sexy teaching VOICE ...More AUTHORITATIVE and DEMANDING!  So wicked when I am teaching you a lesson about your submission and COMPLETE chastity to ME!

Giving you even MORE PLEASURE and teaching you the TRUE meaning of permission.  HARDER and HORNIER with ME every day, with NO c**ming in sight ***GIGGLES***
This is the second of 5 lessons in your NEW Chastity TRAINING Lessons---- surprises along the way (Free GIFTS of teasing and NAUGHTY ASSIGNMENTS that could cause an EXPLOSION).
Be sure to start with Lesson 1 before beginning this Lesson.

Give Me all control of your c**K...and of course your mind.

If you fail, I will even allow you to start over, after paying your chastity penalty.  I'm so good to you!!!
PERSONAL NOTE (only visible to you)
You must
Log in / Sign up