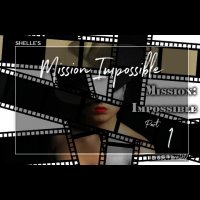 OFFICIAL SYNOPSIS
Level: Medium
Length: 34 minutes
Category: Mind Control-Erotic Fantasies

Hello agent,
There has been some strange reports lately about a mysterious Woman, she calls Herself Domina Shelle.
All who come in contact with Her seems to never be the same, even the most powerful.
When interrogated using our advanced methods the results are the same---the subjects never say anything--- well, except incoherent things.  They only babble about spells, being bound, love, devotion and submission.
Your mission, should you choose to accept it, is to gather intel by approaching Her (Domina Shelle).  We think that She uses hypnosis, so BE CAREFUL and whatever you do NEVER become aroused in Her presence, we suspect it's how She first gains control of Her victims.  It might sound silly, but She is said to have magical powers....something mystical and irresistible...so BEWARE.
PERSONAL NOTE (only visible to you)
You must
Log in / Sign up