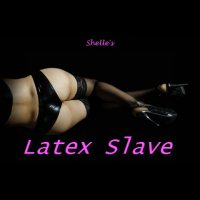 OFFICIAL SYNOPSIS
Pure BLACK perfection...So SLIPPERY, so HOT, so SEXY...listen and accept what I want.

Level: Hard
Length: 47+ minutes
Category: Fetish-Mind Control--Erotic Hypnosis

Experience Your Domina Shelle like never before as I tease you using the classic BDSM Latex fetish. If you are not into Latex, you will be...just for all the WICKED ways I use it to bind you to My dominance. Subliminal messages and binaural beats are used to coax your addiction throughout this intense trance. See your willpower slide into nothing while smooth silky latex hands caress your mind into submission. Just imagine, My creating you as My perfect slave....
A hooded slave, BLANK and mindless, completely covered in glistening and polished latex that encases and COVERS your body and mind...imagine you brought to your knees in perfect submission.

This file is PERFECT for EVERYONE!!!!! If it's NOT your THING, it will be.

Two versions---choose your drug.
PERSONAL NOTE (only visible to you)
You must
Log in / Sign up