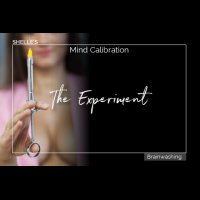 OFFICIAL SYNOPSIS
This is a MIND CALIBRATION EXPERIMENT and you are about to become My Lab Rat. Be ADVISED: With this EXPERIMENT you can EXPECT several changes in your personality and also temporary effects on your body such as deep breathing, extended arousal and excessive swelling between your legs. I cannot be held responsible for long term adverse side effects. Don't you love your wicked unethical therapist? I will calibrate your brain in several different areas. Psychological changes within your mind will develop over time...but you may notice some within the first few days. I have designed it this way.

This EXPERIMENT is somewhat of an unexplored study. The details of the case study are not important, at least not at this time. Don't you love it when Dr Shelle plays inside your brain without knowing what She is doing? Don't worry it's safe. It's not the first time that I have experimented with your brain.***giggles

This can be a turning point as ABSOLUTE proof of My HYPNOTIC POWERS and the extent of My EXPERTISE with BRAINWASHING and MIND CONTROL. Don't worry, you know you have NO fear now, I programmed you to be FEARLESS when it comes to your POWERFULLY amazing Domina.

The EXPERIMENT will last for 6 weeks. Can you imagine what neurological changes I can make in this time?
PERSONAL NOTE (only visible to you)
You must
Log in / Sign up