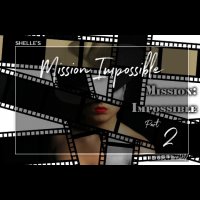 | | |
| --- | --- |
| | Audio |
OFFICIAL SYNOPSIS
Level: Medium
Length: 37 minutes
Category: Mind Control-Erotic Fantasies-Espionage

(Arousal and Cock Control)
Espionage---After the interrogation---Using unusual techniques She brainwashes and casts Her spell upon you.

Brought back to the home of the reported mysterious maybe (WITCHY) Woman.  Find yourself captived by Her wicked spell.  The spell She casts upon you will be one that not even She can remove.

You were warned NOT to become aroused by Her, now it's too late.  You have allowed Her to take over your mind and body.

She is DANGEROUS to anyone who contacts Her...She takes Her victims in unusual ways.  She uses them for Her benefit...

File also includes Music, Binaurals and Triggers.  Best to listen to Mission Impossible first.
PERSONAL NOTE (only visible to you)
You must
Log in / Sign up