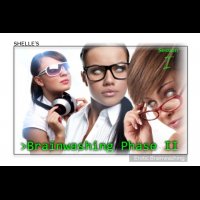 OFFICIAL SYNOPSIS
Level: Strong
Length: 27 minutes
Category: Brainwash-Erotic

Brainwashed Phase 2 - Step 1 - Coercive Persuasion

An extraordinary BRAINWASHING file (1st in the series) that will prove MY POWER over you.  Each step guiding you to a FINAL DESTINATION of a complete BREAKING POINT....your mind just like a rubber band being STRETCHED and STRETCHED until it never returns to what it once was.  Making you better, more happy and MORE MINE!

I weave a tighter spell of trance around you...Bend you to My will...Easily controlled by Me.  A deeper and more critical level of submission...a new understanding of just what it means to be controlled and DOMINATED.

This is just the beginning.
My power is becoming more overwhelming, I am growing STRONGER....Come and experience a most RIVETING erotic MIND F**K.  Tic TOC----Takes you even deeper.

NOTE---I used the metronome which is a very powerful effect....and it is perhaps the only true Isochronic beat... the low frequency beat that I used enhances deep hypnotic sleep....
PERSONAL NOTE (only visible to you)
You must
Log in / Sign up