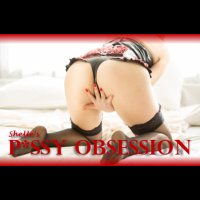 OFFICIAL SYNOPSIS
Hypnotized and obsessed by My P*ssy...addicted to My P*ssy...

Category: Fetish-Brainwashing
Length: 46 minutes

A SEXUAL MASTERPIECE

Listen to the TEASER ...

Kneel, Naked, and taste the drug that will overtake your HYPNOTIZED mind.

Under My guidance your brain will automatically produce a mixture of the chemicals oxytocin, serotonin and dopamine together with some other minor chemicals that will produce an addictive drug.

Through My intense conditioning in past sessions you have become fully attuned to the power of My voice and its ability to enslave your subconscious desires. I can manipulate your conscience existence through thought manipulation. you have freely given Me the ability to control both your desires and with this I can further exert My blissful influence over your open mind....as My pussy becomes your addiction.

Oh yes, My puppy, imagine being forced by Your Goddess into slavery as you caress (tasting My sweetest poison against your tongue) My naked body and taste My essence (mmm - so good). In your weakened and mindless state your coerced compliance and conditioned submission only deepens as your addiction to Me OBSESSIVELY strengthens.

So, My slave, prepare yourself to drift away into an extremely deep mindless sleep where you will be kneeling at the feet of your Domina, sexually subjugated, all that defines you! Addiction, OBSESSION, subjugation...pussy OBSESSED. Breathe Me in!

Be aware, the addiction is REAL. I have used effects in this session that will overwhelm you. you have been advised. Proceed with SEXY HYPNOTIC precaution.
PERSONAL NOTE (only visible to you)
You must
Log in / Sign up